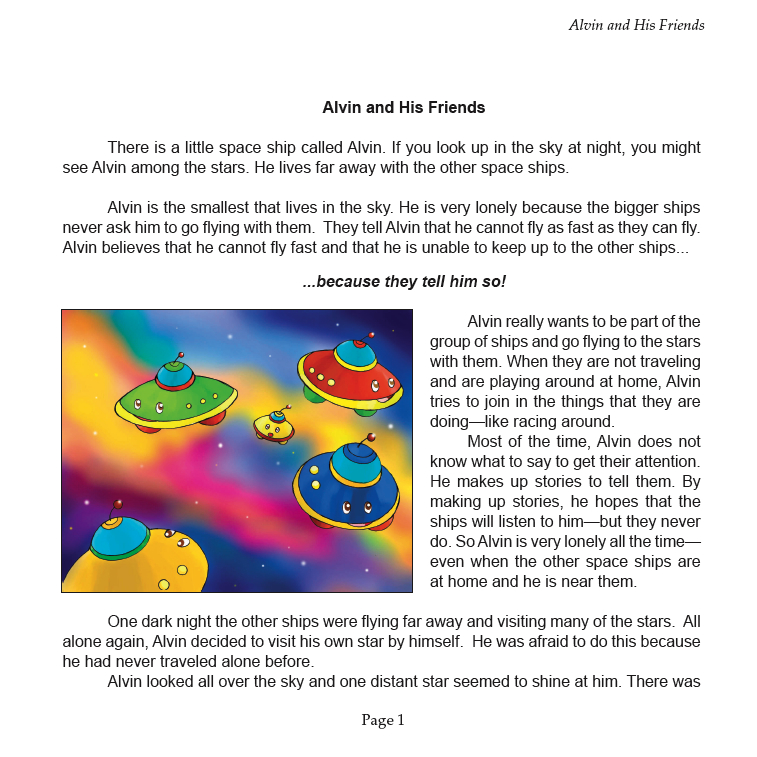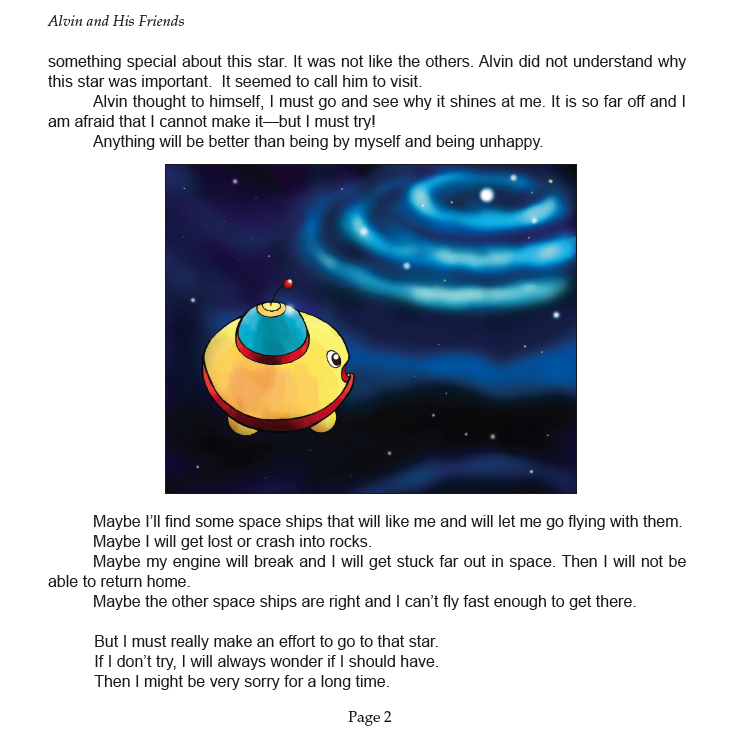 ---

Robertson Publishing offers excellent discounts to bookstores and libraries. For more information call 1-888-354-5957.

Great lessons about outer space ~ Marie Barron, Mother
I recently purchased this book for a friend's child who is obsessed with the planets. He loved it!! He really identified with Alvin, who goes on a journey to the far reaches of the solar system because he can't make friends at home. He speaks with and learns about the planets and comets and stars. He learns many life lessons along the way and finds out he has a lot more courage than he ever thought. A great story and learning experience for kids and adults. GO ALVIN!!
Tyler Blanchard, 9 years old, 4th Grade
Alvin is as good as "Diary of a Wimpy Kid". I already knew about the planets but Alvin had a good story. The last page of the book taught me to look at the NASA web site and how to look for the real Alvin, the submarine. I was the only kid in class that knew who Alvin the Submarine was when the teacher asked us one day. That was cool. (Dictated to the author by Tyler.)
Chris McIsaac, 4th Grade Teacher, Williams Elementary, San Jose, CA
The book Alvin, by Phil Rossignol, is not only a book for children to learn about the solar system, but can also be described as a heartwarming story that teaches the important life-skill of forgiveness. As an educator, I can visualize teachers, especially in third grade, using this book in correlation with their science and life-skill units. Most importantly, this story embraces a topic many people struggle with in their own lives. It will pull at your heart-strings as it captures how forgiveness can bring new meaning and peace to one's life, and finally gives the reader a sense of hope for the world.
Alice Marciel, College Instructor
This book is filled with delightfully wise and simple teachings. The book teaches children confidence and to never give up and most of all forgiveness. Every elementary teacher should have this book in his or her classroom.
Aimee Algier, Head of Technical Services, Harrington Learning Commons, Sobrato Technology Center and Orradre Library, Santa Clara University, Santa Clara, CA
A very refreshing children's book, Phil Rossignol has created a wonderful story of a little spaceship that could. There are lessons of walking through fear, having confidence in oneself, loving others and forgiveness. It is also educational, describing all the planets in our solar system. What a wonderful story of inspiration for children, as well as being an excellent learning tool.
---