It's not always easy getting youngsters to listen when we try to teach them to be kinder to the environment and ensure a safe and healthy future for our planet.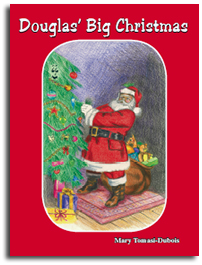 Mary Tomasi-Dubois of Los Gatos hopes that her new children's book, "Douglas' Big Christmas," will perk up little ones' ears by delivering the information in a fun and entertaining way, with an added dash of holiday cheer to sweeten the deal.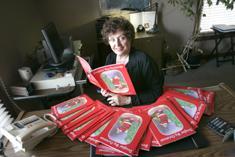 Tomasi-Dubois is celebrating the release of this, her third book, just in time for the coming holiday season.
She says the inspiration for her book came from her husband, Paul Dubois, and the wondrous imagination he had as a child. The book's main character, Douglas, is a Douglas Fir tree that one day discovers that the place he has called home for so many years is actually a Christmas tree farm, and that he is being raised so a family can come and cut him down, take him home and decorate him for the holidays.
"When he was growing up, my husband's family went to a Christmas tree farm every year to cut down a tree," Tomasi-Dubois explains. "So as a young child, Paul always wondered, 'Does the tree hurt when you cut it down? Does it feel pain?'"
Tomasi-Dubois decided to take those innocent questions and turn them into the story of Douglas the tree, mixing in valuable lessons and morals for young children with the holiday-themed adventures of Douglas and his friends.
When Douglas discovers that he is being raised on a Christmas tree farm, another tree, Royal the noble fir, befriends him.
"When Douglas finds out that his big duty in life is to grow big and tall so that some family can cut him down for their holiday celebration, he kind of panics. He decides that he wants to pull himself out of the ground by his roots," Tomasi-Dubois says. "But he's not sure — if he does this, then what will he do? Will he just roll down the hill and end up in some apple orchard? What will happen to him?"
So, Royal teaches Douglas about Christmas and what it means to be a Christmas tree.
"Royal teaches him all about the purpose of trees; how humans really depend on trees, and that the trees that are most successful at producing oxygen are firs," she says. "Trees hold the soil together; they provide habitat for small animals and insects. The idea is to try and introduce young children to the concept of ecology."
In the story, Royal explains to Douglas that if a family does it right and follows the rules, they will leave at least one ring left at the bottom of the trunk when they cut down a tree.
"That will allow the tree to grow and live again," Tomasi-Dubois says. "So, in that way, Douglas doesn't really die. His spirit remains with his trunk."
The story teaches another lesson through the ornaments that are placed on Douglas' branches when the Simmons family eventually comes and cuts Douglas down and takes him home to be their Christmas tree. The Simmons' ornaments bicker and squabble with each other over which one is the most important of all — the slightly tarnished decorations that have been in the family for generations, or the shiny new ornaments — until the family cat comes and bats an ornament off the tree and crushes it, and they lose a dear friend.
"Crystal, the Christmas angel that sits atop the tree, teaches the ornaments that caring for one another and respecting each other and their differences is important, whether you are old and tarnished or new and shiny," the author explains.
Tomasi-Dubois says she hopes that "Douglas' Big Christmas," which was published by Robertson Publishing on Santa Cruz Avenue in Los Gatos, will become a new holiday tradition for families.
"It's a family story, kind of like 'The Night Before Christmas.' That was my idea for this, that families would gather and read this together each year, only earlier in the holiday season before they go and pick their own Christmas tree," she says, adding that the idea behind the story is one that her family tries to remember each year themselves.
"Now, we always say a prayer and a blessing before we cut a tree down each Christmas. We also try to find a tree that is higher and taller so that we can leave even two or three rings at the bottom, so it's easier for the tree to grow again."