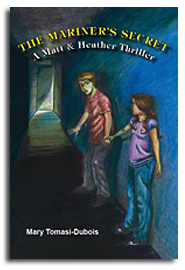 The First Book in the Series is available again!
The Mariner's Secret — A Matt and Heather Thriller
6"x9" • 136 pages
ISBN: 978-0-9801675-5-9
A Secret Discovered... A Time Travel Adventure... Thugs, chases through the streets of San Francisco, scientific discoveries, and other mysteries abound in this story.
---
"Wonderful Little Book"
By Michael A. Cignetti "michellino" (San Jose, CA)

I am a father of two, my daughter is 6 and my son is 7. It is my task every other night to read them a "bedtime story". Knowing my interest in such subjects, a family member gave me a copy of The Mariner's Secret. Soon, I was taking my wife's reading slot as well, propped up against the pillows, lost in adventure, with an engrossed child on each side of me. Their mother knew something was up, so after catching her up on the first few chapters, she joined us. For several nights straight, we cuddled in bed as a family and were taken away by this charming story.
After each night's reading, we would discuss what we've read and I would provide a synopsis to help them digest what they have heard. My youngest would be fast asleep for such summary, not a peep heard from her since before the end of the last chapter read. For my eldest, this was his introduction to novels. He comprehended the story quite well, and would imagine what Matt (a lead character) looked like. I told him that our imagination is what makes reading so wonderful. If a writer is good, your imagination takes off, making a movie of the story in your mind. He agreed, and at the end of every night's reading, he would predict what he thought was coming next and would attempt to solve the mystery this story weaves. I'd tell him that he could be right, but that we'll know more as we continue to read. I then explained the concept of twists and turns in a story. So, through the reading of this book, he learned a lot about the wonder of a great novel.
This is a book that is definately intended for the young reader, and with both a boy and girl (siblings) as the main characters, it easily captures the imagination of all young readers. But, because it is such a well written book, it found this adult reading ahead, long after the children were off to dreamland (no doubt filled with adventure), to discover what was to come.
I have since researched this writer and it appears that this is her first novel. What an impressive debut. Hopefully there will be more "secrets" to come. Very Highly recommended to the young novel reader and any parent who enjoys those precious moments reading to curious little children but likes to be entertained by what they are reading too.