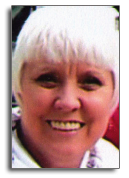 Mary Fujiyoshi is a native of Richmond, Virginia, and now resides in Honolulu, Hawaii. She is certified in Usui Reiki, Karuna Reiki, Sound Healing by Tom Kenyon, Feng Shui Wealth Attraction by Lilian Too, and has studied hypnosis whith Delores Cannon, and Ho'opono Ke Ala (the right path) with Kupuna Aunty Mahealani Henry.
Melchizedek Method Meditations have had an enormous effect on her life, including travel to Egypt for meditation in the Great Pyramid. She belongs to and has traveled to Japan and China with the Rissho Kosei Kai Dharma Center, and she volunteers with the Kids First Program in Hawaii.
---
The Illustrator
NITA PIPER is a self-taught graphics artist who remembers when cut-and-paste meant an Xacto knife and rubber cement or wax.
For the illustrations in AngelSpeak, she sketched in pencil, filled in with watercolor or gouache, then did the detail with a Uniball Deluxe. Most of the backgrounds were added after scanning the original into Corel PaintShop. She met Mary Fujiyoshi at a Reiki class in Honolulu a decade ago and maintains the friendship from Northern California.