---
There is no doubt that the world of dentistry has been fascinated by the addition of dental implant science. From the end of the last century to the beginning of this century, there has been an evolution of dental implantology, including journals, handbooks, textbooks and enormous conferences that have led to a predictable and beneficial service to our patients. I have known Doctors Moneim and Souza through national and international dental conferences in which we collaborated in training hundreds of dentists in implant dentistry. This book is unique in the way that it illustrates how to avoid dental implant complications, some of which were never published in a book before.
The book starts with the definition and classification of complications, then it highlights technique- and design-related complications. This is followed by well-documented case studies with clear photographs. The latter section of the book discusses all preventive and curative measures to avoid complications.
I have found the book to be an enthusiastic celebration of an interesting topic with an abundance of colorful photos. Although the book is targeting practitioners, it contains much that will be of interest to students and residents—indeed to anyone fascinated by the world of implant dentistry.
I am confident that this book will find grateful readers who will gain a broader prospective and gain knowledge in the field of implant dentistry.
Mohamed A. Maksoud, DMD
Harvard University
Boston, Massachusetts
---
Preface
Writing a book about implant complications was not an easy task. Not many practitioners like to talk about problem cases. We much prefer to share success stories that enhance our pride in the profession. But we all have to deal with complications in our practice; that is part of how we learn. Dental complications, especially implant-related complications, were part of our own learning curves and have made us better practitioners. That is why we believe it is worthwhile to share these cases with our peers. — Ahmed Moneim, BDS, ABOI and Dircilene Souza, DDS, MS, PhD
Sharing Stories: A Long-Standing Tradition in Dentistry
As practitioners, we are continuously writing down our marks, as shown by historians who have dated dentistry over 5,000 years. Sharing cases, too, is part of a long-standing tradition. According to the classic 1992 book Dentistry: An Illustrated History by Malvin Ring, ancient Babylonians used to bring sick people to public squares where they could describe their ailments and perhaps find someone who could diagnose their diseases and recommend cures. Another ancient custom involved patients carving on stone tablets to document their diseases and the remedies that worked for them.
This book carries on the tradition of sharing cases—cases of dental implant complications, the way the practitioners resolved them, and the lessons they learned. We hope that by sharing these cases, we can help our peers avoid similar complications and the resulting discomfort to their patients.
New Traditions in an Old Profession
Although dentistry has been around for thousands of years, much of what we do today is relatively new. For example, the form of local anesthesia we use is little more than 100 years old.
The root-form of titanium implants used since 1965 have a high success rate, and more and more people are benefitting from them. But 40 to 50 years is a relatively short time to evaluate the longevity and effect of dental implants on bone and regenerated tissues. We clearly have much more to learn.
In the last thirty years, we have seen dramatic improvements in dental techniques and materials, including the use of minimally invasive implant surgery and aesthetically appealing wireless orthodontics. Also, most practicing dentists use evidence-based dentistry to present their patients with multiple treatment options to ensure the best results.
We are indeed fortunate to practice dentistry today with all of these recent advances. Our patients, too, are far more fortunate than their ancestors.
Dental Advances of the Future
In the last century, humans were able to extend their life expectancy from 40 to 70 years or more. What if we can double that life expectancy in the next century? What challenges will a longer life span mean for the dental community?
Obviously, the simplest way to preserve teeth is through preventive dental and oral care. Thus, just as dentists have done throughout history, we must encourage our patients to be diligent about dental hygiene. And we must keep pace with advances in preventive dentistry.
We know that statistically more and more people will need at least one dental implant or other tooth replacement procedure in their lives. Currently, we work with root form implants made of titanium, titanium alloys, or zirconium. But as we learn more about the phenomenon of osseointegration, we may find other materials that work just as well or better.
For years, scientists have been conducting research on stem cells taken from baby teeth or extracted wisdom teeth. Already in the lab, scientists are using stem cells to produce new bone or new dental tissue on an experimental basis. Someday practitioners will use this technology to treat their patients. Maybe we can even silence the gene responsible for giving us only two sets of teeth instead of three or preventing us from growing a new tooth as soon as one is extracted. (Some researchers are already studying this possibility in animals.)
Remember, there is a reciprocal relationship between teeth and bone; when we lose bone, we lose teeth, and when we lose teeth, we lose bone. So while this book is focused on dentistry, we are really caring for the whole patient.
---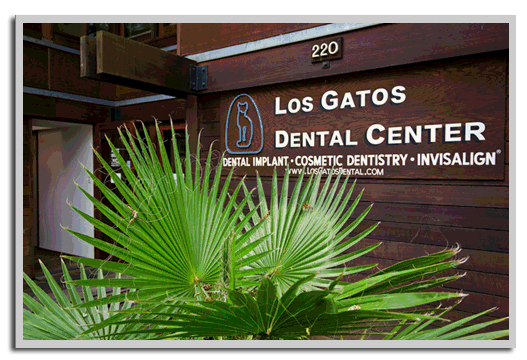 (Photo by Zack Rheinstein)
| | |
| --- | --- |
| 220 Oak Meadow Drive Los Gatos, CA 95032 | 14513 S. Bascom Avenue, Los Gatos, CA 95032 |
| (408) 354-7333 | (408) 356-8146 |