Chang Fury. Creators Cut Edition
A Graphic Novel by Damion Kendrick
---
The Fury is Unleashed! Welcome to the Chang Fury saga features issues one through eight plus the prologue issue with a whole new extended beginning!
Chang Lee comes into his birthright with a terrible price. Witness the martial artist struggle as he battles the murderous tyrant Shen Lo of Dark Karma. In an attempt to rescue his fiancée from the clutches of Shao Yun he must also fight his inner fury at the same time to focus on the fierce battle. Will Chang Lee give into his fury to save his true love and defeat Dark Karma, or will it consume and prevent him from a successful rescue?
---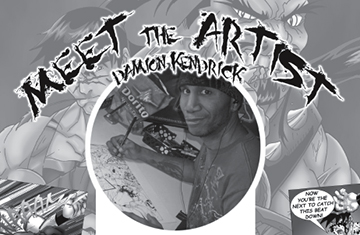 Damion Kendrick is working hard to live his dream of being a successful comic book artist and making a name for himself in the comic book world. He is also the founder of Damage Arts Studio. Damion released his first manga action comedy series Chang Fury in 2005 which became a hit and is still capturing fans around the world.