by Mary Ann Cook
TEN STUPID THINGS: A professor from USF and a local corporate executive have teamed up to write guidelines for women who are just starting in business or who feel stuck in their jobs. The book is titled Ten Stupid Things Women Do To Mess Up Their Careers.
The authors are Giselle Parry of Monte Sereno and professor Patricia Mitchell. The two are longtime friends and colleagues who for years have discussed and lamented the fact that women hold only 14 percent of leadership positions despite being half of the work force.
Somehow, they felt, women must be sabotaging themselves or the statistics would be more encouraging. Thus it was that they embarked on this book. Their premise must be hitting a chord, because they've already been asked to write a sequel.
Two strategies that they strongly advocate and are missing from most women's career paths are finding a female mentor and advertising one's own successes. Finding such a mentor in a high leadership position and following her lead and advice is no easy task, since women often sabotage other women as well as themselves, it is felt.
The idea is to use the power of the relationships in your life. Networking is all-important. Self promotion is another crucial strategy for moving up. You can't be a wallflower and expect someone to pick you, say the authors, citing other experts.
The new CEO for IBM, Virginia Rometty, said early on she was offered a big job but felt she didn't have enough experience, so said she needed time to think about it.
"Do you think a man would have ever answered a question that way?" her husband challenged her that night.
Rometty says this exchange taught her to be very confident. Women have to take risks, she emphasizes.
"This book is just the tip of the iceberg," Parry says. "It's the little book I wish I had when I started my career."
Virginia Fordice of Boulder Creek did the ink drawings for the book.
---

Author hopes book prevents career women from messing up
By Rich Freedman
Patricia Mitchell's "Ten Stupid Things Women Do To Mess Up Their Careers" is like a a bag of potato chips. It may be small, but once you start, you can't put it down.
That's, hopefully, what the University of San Francisco professor confidently believes heading into her Nov. 12 book signing at Vallejo's Knowledge Factory. The 22-page paperback, to be sure, is a quick read that can be had during an extended lunch. And that's one of its attractions, Mitchell said Friday morning from Brenda McNeill's bookstore.
"There's no excuse for not reading it cover to cover," she said. Sure, some people have complained that it's not some 150-page answer to life. "A couple of people have said, 'This is just a few pages.' I say, 'You know what? A few pages of some powerful stuff. So read it and get back to me," Mitchell said. "It's a powerful little book." But for $20? "Women spend more than that getting their nails done each week," Mitchell said, grinning. "Stop complaining, get the book and read it and see if you can learn something from it." Mitchell's Top 10 list was narrowed from a long list of ways women of all colors can prevent and overcome career obstacles. "I'm trying to help the next generation," she said. "I'm trying to help the young women that are coming up. I'm trying to help women break down some of the barriers that keep them from shattering that glass ceiling."
Mitchell entered the business world 35 years ago Advertisement and, 18 years ago, wrote "Cracking the Wall: Women in Higher Education Administration." "And you know what? The issues are still the same as they were 35 years ago in terms of advancing," Mitchell said. Part of the problem is women's attitude toward themselves, Mitchell said, and part of the problem is a society that still pays women 70 cents for every $1 a male earns. "The number of women in the top positions has not increased that much," Mitchell said. "And the interesting thing is that it cuts across all professions."
Mitchell believes young women should have a mentor, something she never had early on. "You can ask women, 'Do you have a mentor?' and they will probably say yes, but their mentor was actually a male," Mitchell said. Fine, she added, but a woman should also have a female mentor "who has been in their position or higher up who can help."
Also on the list is "Tooting Your Own Horn." Many women, said Mitchell, "do not give themselves credit for what they've done. Many times, women feel like if you're tooting your own horn, you're bragging and nobody likes braggers. You know what? Sometimes, you've got to be your own cheerleader. Speak up and let somebody know what you're doing so people will remember." It's about knowing what path to take and how to solve the challenge, Mitchell said. "Knowledge is power. If you know, you'll do better," she said. "If you don't know, you can't expect anybody to do any better."
Again, reiterated Mitchell, she talks about the same issues in her "Women in Management" class at USF that were discussed three decades ago. When someone finishes her book, Mitchell suggests passing it to someone else. And have someone pass the book to someone else. And, for goodness sake, don't forget that person you see in the mirror every day, Mitchell said, believing there are times to put others first, but there are also times to take care of one's self. "There's nothing wrong with taking that bubble bath," she said.
---

'Ten Stupid Things' is professor's 'tool box' to help women be their own 'cheerleaders'
By Donna Beth Weilenman Staff Reporter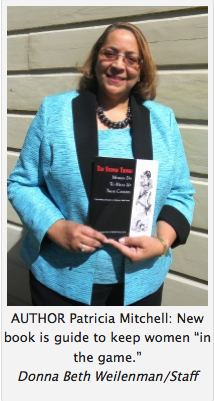 Thirty years ago, Dr. Patricia Mitchell decided to ask the University of San Francisco, where she had been teaching for five years, if she could start a new course. The Benicia professor wanted to teach a class about women in management. "You would not believe the headaches I had trying to get the course approved!" she said.
When Mitchell finally was given the go-ahead, she was limited to teaching the class in off-semester sessions, either during summer or in month-long intersessions. "I guess they thought it would not be a popular course," she said. But the classes nearly always were full, and each had at least one male student — often more.
Eventually Mitchell was given permission to teach the class during regular semesters, something she still does, although she said she enjoyed and learned while teaching it during the school's "off season." And the class inspired her to write her first book, "Cracking the Wall," about women in higher education administration. That book came out 18 years ago, and Mitchell, 65, is writing an update.
Her newest book, written in collaboration with Dr. Giselle Parry, is much smaller, a slim 32 pages, illustrated by Virginia Fordice of Boulder Creek. But "Ten Stupid Things Women Do To Mess Up Their Careers" has a wider audience: any career woman, in any field. "There are a whole lot more (stupid things), but these are the top 10 things," Mitchell told The Herald on Monday. She described the book, saying, "It's a little tool box" and a guide to keep women "in the game." "The workforce is a game," she said, and the book can be a guide — with a set of useful tools — to help women play that game better. For instance, women don't promote themselves, she said. "We have to be our own cheerleaders," she said. "If we don't think our product is good, no one else will, either."
She said women also need to take care of themselves, to have balance in their lives. "We're wonderful leaders," she said. "We can multi-task." But women also need to realize the things in their lives that are not being brought to full realization because they're not getting enough attention. She said she learned this herself as she and her husband, Larry, now retired from a career as an executive with Xerox, raised their three children: Jason, now a physical therapist assistant; Jeremy, an assistant coach at Benicia High School; and Candyce Jackson, who lives in Louisville, Ky., where she's employed at the corporate headquarters of Papa John's Pizza. Their daughter "loves the book," Mitchell said, and her sons, who both live in Benicia, are attending Mitchell's book signings, even bringing along acquaintances to learn more about the book.
Mitchell will sign copies of the book Nov. 12 at the Knowledge Factory, 1524 Solano Ave., in Vallejo.