"I really like the book. It has a poetic feel to it. I think it would be a good book for 6th and 7th graders." —Erika Lomeli, Educator San Benito County, CA
"There is something for everyone in the book. Although it's for kids, I think adults might like it to. I m waiting for the next book Great Job." —Robert D. Paul, Oakland, CA
"I was reading the first chapter on your website. I really like it. I want to order it for my friends and family." —Istavan Mezaros, Las Vegas, NV
"It's a very interesting book. I think the book could really help kids." —Vida Silva, Director, African-American Musuem and Library, Oakland, CA
"My class really enjoyed it. The book has a lot of symbolism in it." —Robert Butler-Thirty Year Middle School Teacher and Educator
"Boxman has a very spiritual aspect to it. It really taps the senses of touch, sound, and sight." —Mohassan Muhammed, Founder , Grandma's Hands, Oakland CA
"My little nephew loves Boxman." —Lisa Anne, San Jose, CA—College Student
"I just finished Boxman and I was impressed." —Joey Sinner, Las Vegas NV—Father of two
"My eight year old son really likes Boxman." —Patrick Avila, San Jose, CA —Father of two
"I really liked Boxman. It's a great book. I can't wait until the sequel." —Tom Setello, San Jose, CA
"All I can say is praises." —Arash Dibazar, Founder and Owner IMC Academy, San Jose, CA
"Oh my goodness. I really liked the ending and how Boxman shows who he really is." —Bridget Morgan-Sayer, Fremont , CA
"It's a really cool book. I like the message in there." —Jafa Green, Musican, San Jose, CA
---
Boxman - Author Introduction & Premise


Click here to see the YouTube video.
---
~ Copyright Material ~

It is mid-afternoon and the sky is drenched in red-orange.
The end of the summer is here as tree branches bend and leaves are falling.
There is a courtship of nature's beauty as court-filled sounds are calling.
A man is placed in the middle of a comfortable park.
People are playing three-on-three basketball, reading novels, and enjoying themselves while painting murals and viewing fine urban art.
Unsure and skeptical by the things that are around, his hands are bent, and face placed pointed towards the grassy ground.
He is garnished with the garb of classical 21st century hip-hop fashion ware.
With ivory sweat pants, boots, a pull-over, head-wrap, and a determined attitude that does not care.
Adorned with a golden shine of a simple bodily force field.
His future encounters will make him strong so that one day he can be seen by all, in hopes that he can be healed.
Politely given the name Box, for he is invisible to the unfaithful, for it is they that doubt.
Pondering a thought he thinks to himself, "I wish there was a way I can be seen and earn some clout."
Particularly placed by a strongly rooted oak known as the touching tree, he finds an unquenchable strength in its foundation and in its comfort he is happy.
It is at this time he notices a crowd gathered under a gracefully structured white gazebo.
People are intensely running around some type of object inside and without knowledge of where to go.
Box Man: "Maybe I should move there? I think I should take a look?
Possibly there is a party? For whatever it is-it seems to be off the hook."

The people are reading from a piece of paper.
They are looking puzzled at the document, as if they are attempting to solve a mystery caper.
There is a list of famous peoples names that appear: Ludwig Van Beethoven, Albert Einstein, Toni Morrison, and Tupac Shakur.
"What is this I view? What is this I glance? If I go back in time will these great people give me a chance?"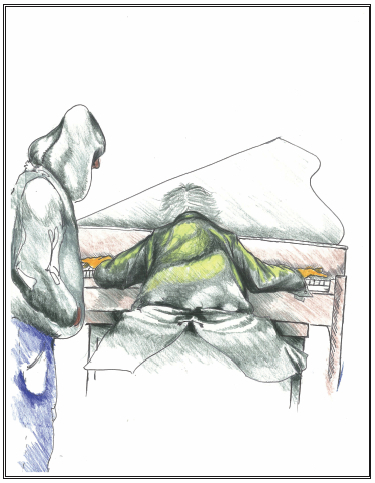 Illustration by Ini Uto-Uko ~ Copyright Material ~
---